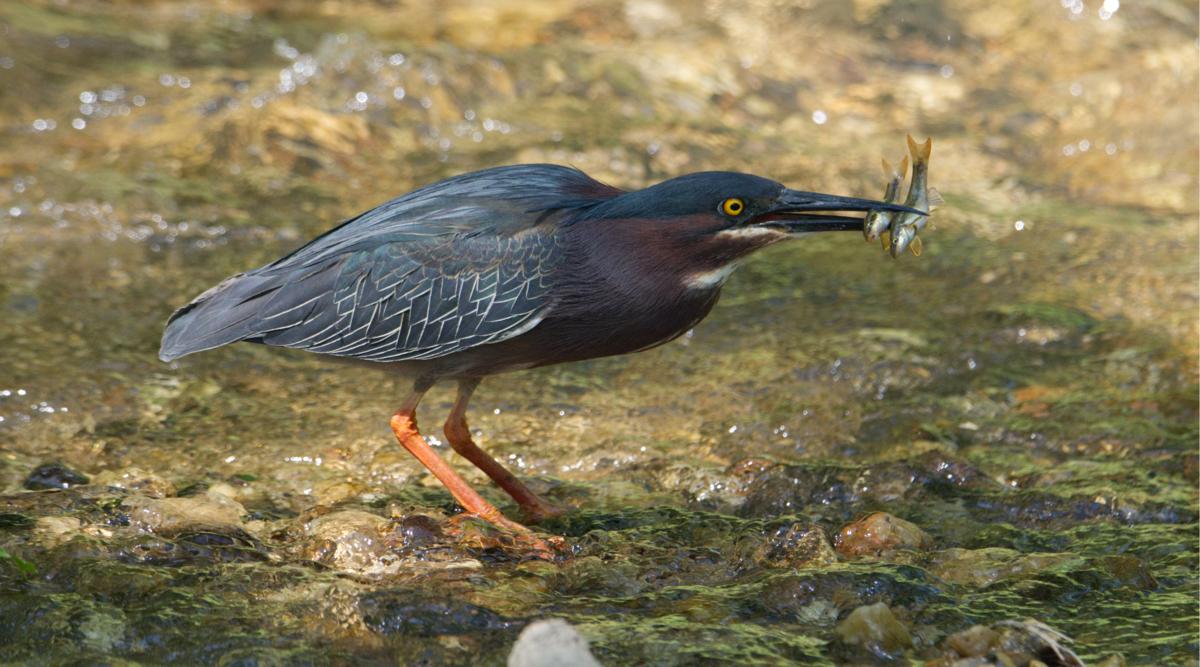 Green Heron
Green heron with a double catch in an undisclosed location in Maryland on May 2, 2019. As it is that time of year for migration and numerous species to return to Maryland, several photographer friends and I have been checking a few of my good locations for green herons from last year. A few birdwatchers had spotted a green at this location in recent weeks but my searches were coming up empty. I decided to stop on a whim after an unsuccessful bird photography trip near Washington, D.C. and hoped one would make an appearance.
Not one but two green herons were in the pond when I scanned with my binoculars on arriving. One had shifted and I saw the second one, which did not stay long. I attempted to follow on the path but one flew out of sight and the other flew deep into the reeds in the marsh, making photography impossible. I walked away from the pond and stream for some time, knowing at least one would go back to the pond in my absence. My plan had worked as one was sitting near the edge of the pond later, which I walked by and didn't see.
After a little while of it being on the pond, it flew down into the stream. When I followed earlier, it flew off almost right away. This time it allowed me to crouch down about 5 feet above the stream to photograph it for nearly 45 minutes. It had caught several small fish but I was shocked when I saw 2 fish in my viewfinder. With a large buffer, I kept shooting almost continuously in the hopes that I would get a great shot. The second fish managed to wiggle out and escape but the first was not so lucky.
My ISO was high as I had an exposure compensation of +1 to brighten up image.
Lens - Tamron 150-600mm F/5-6.3 Di VC USD G2 @ 420mm on Nikon D500