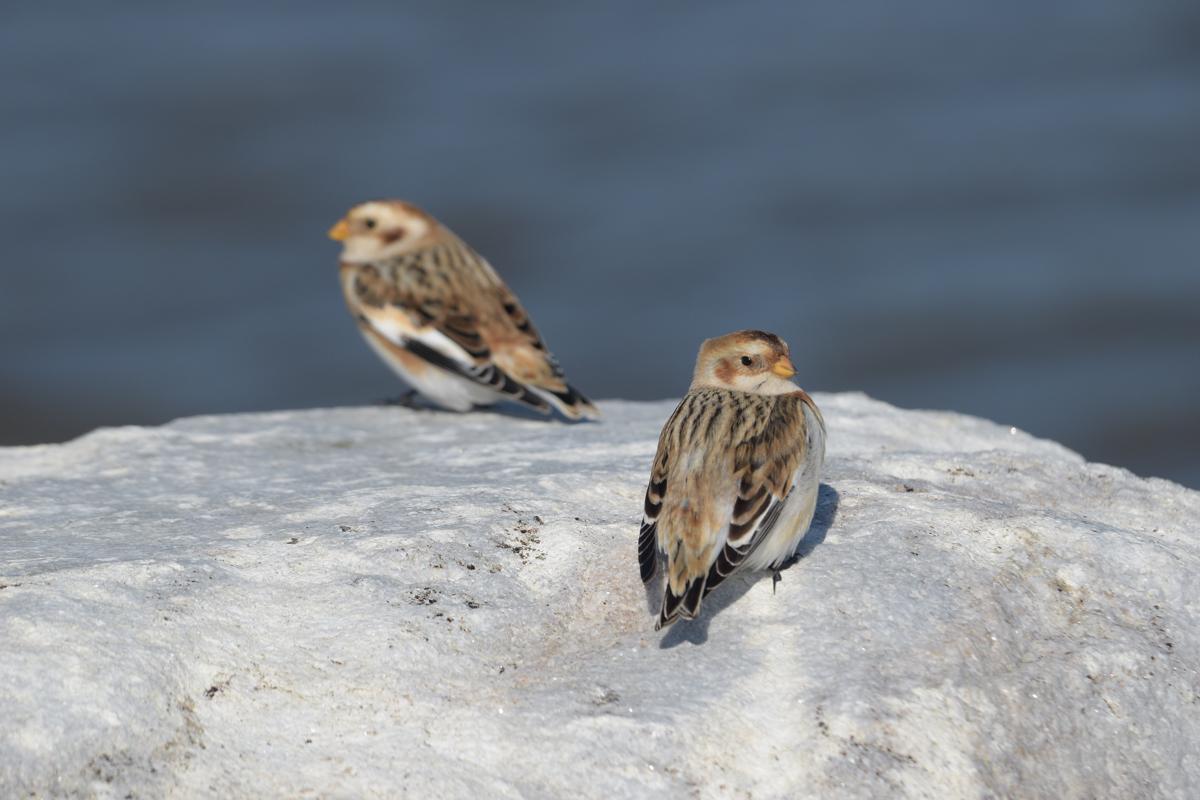 Snow Bunting
Snow bunting at North Point State Park on November 29, 2018. Snow buntings are primarily Arctic birds who migrate further into Canada and the northern portion of the US in winter. I have been told that there are a few who make their home for a few weeks at North Point every winter. The first sighting of this season was very late October, with just one bunting. Over the course of the past few weeks, the sightings had increased to 4 birds. I knew my chances were higher with 4 birds as opposed to 1 so I decided to make the drive up there.
While it was cold and incredibly windy in the days leading up to my visit, I went on a day that had less wind and slightly warmer temperatures than the prior days. I mention wind as a factor in seeing them as the pier they have decided to reside on (Crystal Pier) is 1000 feet long. Being that they are spending time at the end of the pier, it gets very chilly with even slight wind in the wintertime that far out into the Chesapeake. I had on 2-3 layers of clothing, a hat, earmuffs, face mask, and retractable mittens with hand warmers.
When I first located them, I was able to get about 30 shots off before they flew off and I lost them. I drove 35 minutes to see them and was not giving up so easily. I walked back to the beginning of the pier and still was unable to locate them. If I could not find them again, my intent was to go back to the car for awhile and try again in a bit. Unbeknownst to me, they had flown around my field of view and were right behind where I initially saw them on the wooden railing at the end of the pier. I had no problems relocating them when they would fly off again knowing they liked it there and on the rocks below the railing. To my surprise, I had 5 of them there as I was expecting 4 or less. In total, I spent 3 hours out there (with one trip back to the car to warm my thumbs up) and took 3500 shots.
Lens - Tamron 100-400mm f/4.5-6.3 Di VC USD @ 400mm on Nikon D5500