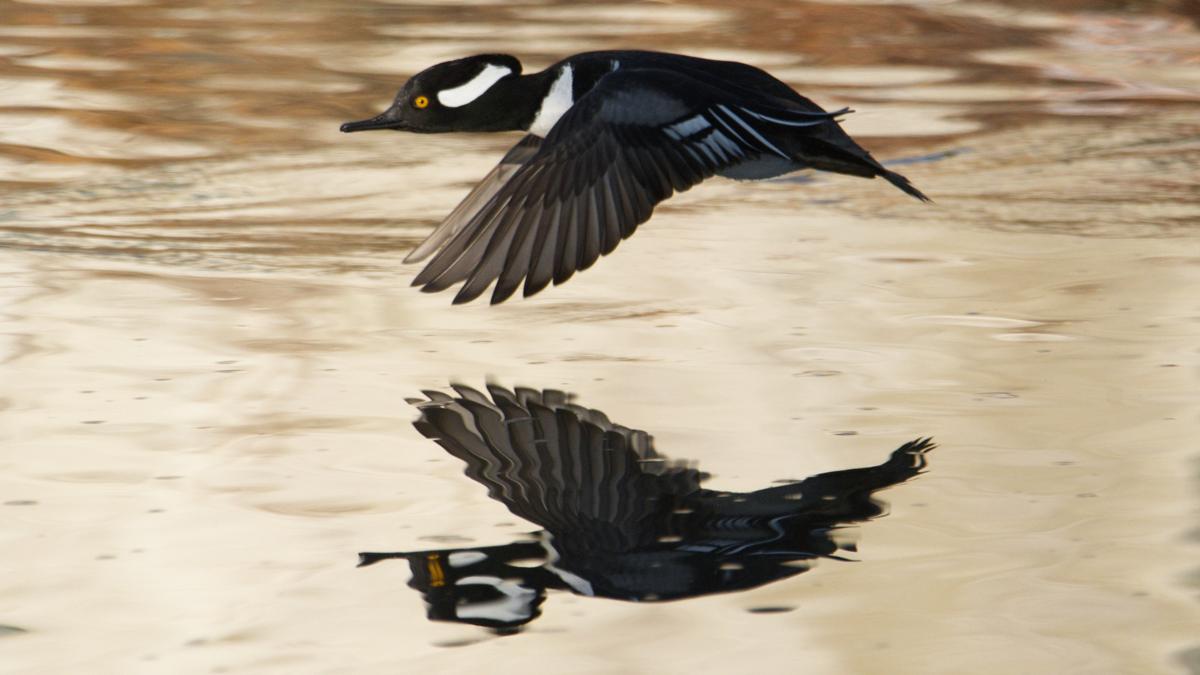 Hooded Merganser
Male Hooded Merganser in flight on March 2, 2022. I had nearly ran out of corn for feeding ducks for the first time in two years last week so I combined a corn-buying trip with a photography trip. One of my favorite spring duck photography places had Wood Ducks start arriving last week. With a slightly chilly but sunny day ahead, I headed out early morning so I could still catch the remaining sunrise.
It was overcast when I arrived and saw the Wood Ducks in the stream. I grabbed my bags of corn and headed over to the eastern side of the stream so the sun would be behind me. I noticed two Hooded Mergansers preening in the stream, a male and female. Setting my corn down, I tried to sneak up on them. They sensed my presence and began moving into the middle of the stream. I paused a moment and tried to take some cover nearby. They did not appreciate that and in typical Merganser fashion, they flew off. I took my chances, aimed my camera, and hoped one shot would turn out in that burst. The image on the back of my camera screen is misleading at times - it will look in focus at the small size but it is out-of-focus or blurry when I look through the photos on the computer. I went on to picking up my corn and photographing the Wood Ducks.
Pleasantly surprised when I saw this one was the only one in the sequence in-focus yesterday afternoon, and the only one with the reflection at that! My other interesting bird was a Mallard/Wood Duck hybrid. That was intriguing due to the fact it had a male Mallard head with facial characteristics of a male Wood Duck and a female Wood Duck backside. An odd but beautiful bird.
Lens - Tamron 150-600mm F/5-6.3 Di VC USD G2 @ 600mm on Nikon D500